SNOWS Motor Group launched its first customer service training programme last year, offering seven young people the opportunity to become apprentices for the company and they have now all successfully graduated.
Through the programme, provided by automotive training specialist, the Learning Skills Partnership (LSP), the seven apprentices learned about the importance of customer service as well as vehicle sales and parts.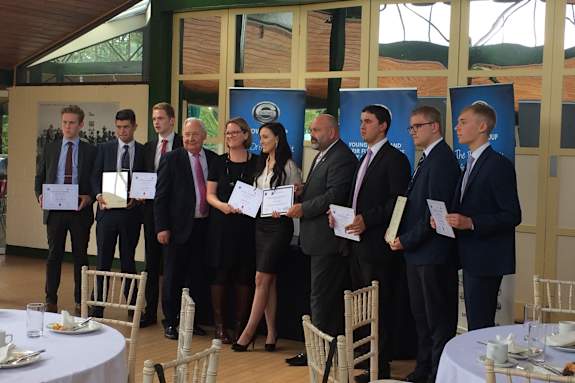 According to LSP co-founder, Mike Alsop, the training programme was designed to recognise the importance of non-technical apprenticeships.
He commented: "From our first mission talks two years ago, to programme development, it quickly became apparent that Snows was not your average business.
"Snows had the clear foresight and vision about building tomorrow today. The programme was designed with the wellbeing, development, job roles and future career progression of the apprentices always in the forefront of Snows' mind.
"During our recent Ofsted inspection, Snows was identified as a leading apprenticeship employer, which is no mean feat in this industry to achieve."
The graduation ceremony was held at the National Motor Museum in Beaulieu, where the graduands received their certificates.
Phil Maddison, a group director at Snows, spoke at the ceremony, announcing: "To be stood here at the home of motoring, celebrating the efforts of these extraordinary seven graduates, feels incredibly special and marks the beginning of a wonderful new chapter in the history of the Snows group.
"It also reflects the pioneering spirit that our founder Geoff Snow, who sadly passed away a few weeks ago, believed in when he founded the group over 55 years ago. This industry has a wonderful heritage and provides keen and enthusiastic individuals with a wide and diverse range of opportunities.
"As an industry that is always looking to the future in terms of technology, safety and customer satisfaction we as a group also need to look to the future – specifically to identify where our future talent and hopefully leaders are coming from.
"Snows believes passionately in promoting from within. Employees who have grown with the business already understand our goals and actively promote the belief that the customer comes first, so why would we want to look elsewhere?
"It's always been relatively easy to attract technical apprentices. However, the routes into customer-facing roles within sales and service may not have been as visible to young people with an interest in our industry.
"We needed to make Snows an attractive and viable career choice for school and college leavers where they could see progression and opportunity if they worked hard."
New students are currently being chosen to be part of the second intake of apprentices at Snows Academy.